Cutting Through the Customer Experience Confusion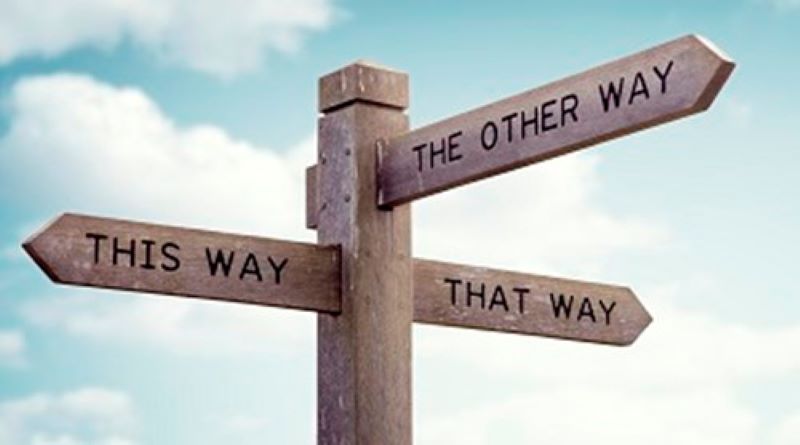 We hear a lot today about this concept of 'Customer Experience'… how brands need to focus on it; how consultants can help you improve it; how important it is to customers. It seems everywhere we look we hear this buzz word, but rarely anything practical to help. We know it's important, that Amazon competes on this basis, and that companies who are 'leaders' outperform 'laggards' by an astonishing 67% in cumulative shareholders returns . But where do you start?
Delivering a consistently good customer experience builds customer loyalty. Doing this, however, requires the execution of a hierarchy of sequenced requirements. Just like in Maslow's famous 'Hierarchy of Needs', each level must be satisfied before the next becomes important. Think about it as a customer - an intelligently personalised email cannot make up for lack of stock, and a friendly call centre agent cannot make up for a regularly incorrect credit card statement. Businesses must pay attention to their performance on all three levels. Getting it right at the foundation is critical, and you cannot skip levels.
Introducing the Ellipsis CX Hierarchy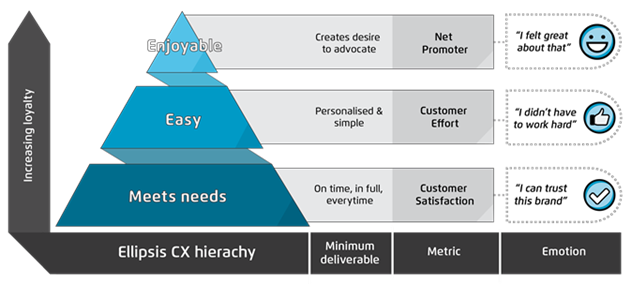 Step 1 - Meet Customer Needs:
Reliably keeping promises builds trust and enables a relationship between the customer and the organisation. First, find out what is important to customers and then find out how you are delivering against this and fix the most important, worst-performing, services first. Think about factors such as service, price, location, range, quality at this level.
Step 2 - Make it Easy:
The concept of using customer data combined to create a personalised experience ensures relevance and ease. Minimising complexity requires companies to dynamically adapt to individual needs and preferences. But what distinguishes personalised service from 'creepy'? Trust. There is no point introducing personalisation, if customer don't trust you to meet their needs (see Step 1). Think about reducing customer effort at this step, by diagnosing the ease of interaction. Also consider CRM, loyalty and other personalisation programs at this step.
Step 3 - Make it Enjoyable:
Customers who take quality for granted, and quickly get used to being treated personally, now look for something more to distinguish a supplier worthy of their loyalty. The goal is to design a customer experience that creates emotional connection, with advocacy as the outcome. But this type of advocacy only works if the foundation is working. If you have destroyed customer trust with poor quality, broken promises or unfair charges... then you have destroyed the emotional foundations of advocacy. Think about simple ways to bring positive emotion into the relationship at this step. Discounted movie tickets from your telco….or cheap ice creams at the end of the arduous Ikea maze?
This approach is becoming mandatory in what Forrester calls this 'Age of the Customer". Companies need processes to garner feedback from customers, and the capabilities and culture to make changes as a result. Some basic questions we should be asking include:
How would you rate us?
Would you recommend us?
Do we know who you are?
Was it too hard to do business with us?
Do we reliably meet your needs?
Do you trust us?
Where do customer journey maps fit in?
Journey maps are a picture of the steps and processes we put customers through as they try to interact with us. Clearly designing customer experiences in this way increases the chance that you will get them 'right' – remembering, these maps should not show business processes but rather the opinions and feelings of your customers.
Journey maps allow you to specify the possible peaks and troughs in the experience you are providing your customers. Your customer journey maps should factor 3 key elements:
1. The Peak-End Rule: The customer experience will be judged almost entirely on how it felt at the peaks and shortfalls, and on how it ended, the 'Moments of Truth'. Virtually all other information appears to be discarded, including net pleasantness or unpleasantness, and how long the experience lasted. The important consequence of the 'Peak-End Rule' is that good work in one area of the interaction can be obliterated by a service shortfall at another. Journey maps allow you to specify the possible peaks and troughs in the experience you are providing your customers. This helps explain why Ikea offer inexpensive food and treats right after their (potentially) unpleasant check-out process. This creates a high point at the end of the customer journey, and the entire experience will be judged more favourably.
2. Customer Feedback Programs: Journey maps help you to understand and capture 'Moments of Truth' and incorporate them into your customer feedback programs. If your customer journey is relatively straightforward, ask customers 'how did we do?' or 'would you recommend us' at the end of the journey. But if your customer journey is complicated or lengthy, you should aim to poll customers at each moment-of-truth to make sure the peak is where you planned it.
3. Reduce Dissatisfaction: It's often assumed that to create loyal customers we must exceed customer expectations during the journey. However, whilst good customer experiences make satisfied customers, satisfaction does not create loyal customers on its own. In a survey published in the Harvard Business Review, 20% of 'satisfied' customers still intended to leave the company in question. Rather, reducing dissatisfaction is far more important, as dissatisfied customers predictably take their business elsewhere and spread the bad word.
Journey maps help us to understand CX shortfalls, but before we use customer journey maps to create moments of customer delight, we should use them to make sure we understand and deliver on the basics, because the very first step to creating loyalty is preventing disloyalty.
Don't forget the order of priority
To become customer centric, we must not forget about the order of priority, before you build advocacy, you need to reduce unnecessary complexity, and before that, you must reliably meet customer needs. Without this foundation, no new technology, CRM system, points program, or social media presence will bring truly loyal customers.
Delivering relevant and engaging customer experiences is proof that your customer focused strategy is working. Good luck!
We are Ellipsis, the Customer Loyalty Experts. We help businesses thrive through solving complex customer problems. Please get in touch, we'd love to talk.