Resonate Solutions Guest Article
How can NPS be used to Inform Marketing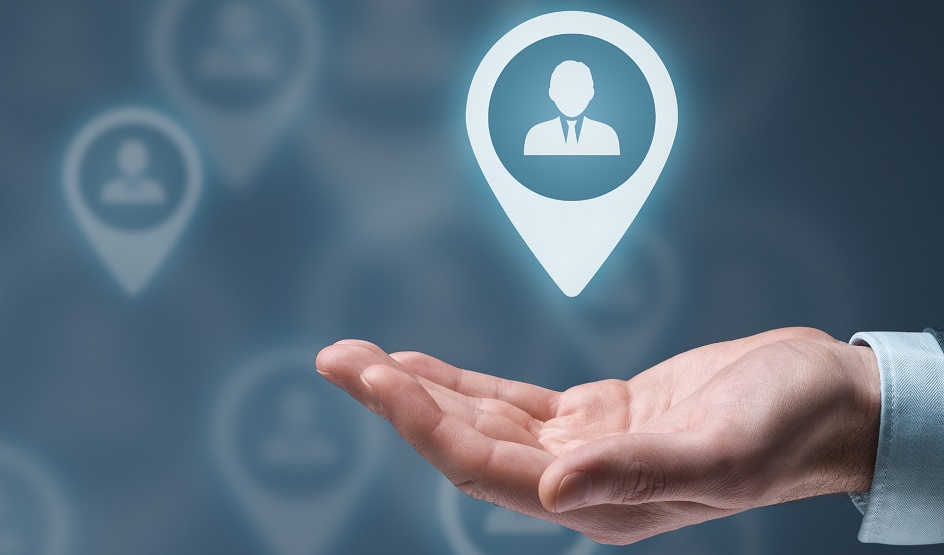 By measuring and tracking NPS data organisations can understand the drivers of the business and begin to utilise the data to inform and drive marketing. In this white paper we investigate how you can integrate NPS with data strategy to inform data-driven marketing and drive further impact and results.
Data-Driven Marketing
Data-driven marketing has been an important element of marketing strategy for many years. More recently, the exponential growth of loyalty programs and e-commerce channels has given marketing managers the opportunity to track increasing numbers of transactions (identified to a customer) and start gathering an enormous array of customer data. This data can help companies make evidence-based marketing decisions that deliver increased profits.
The most advanced approach to data-driven marketing involves moving beyond a one dimensional segment strategy (e.g. based on value segments) to a virtual 1-to-1 marketing strategy, emphasising personal interactions with each customer. One to one marketing is based on a single customer view, multi-channel triggers, predictive models, Life Time Value, share of wallet and multiple segmentations all working together. This level of sophistication takes a considerable investment in data systems and analytics, not to mention the additional training required to evolve marketing managers into data planners. This has often developed gradually over time.
Changing Focus to NPS
There has also been a simultaneous shift at the management level towards understanding customer experience and the use of customer loyalty trackers such as Net Promoter Score&#8480. This change in focus by Executives has pushed customer experience managers to develop new operational strategies to grow the number of Promoters and reduce the number of Detractors, mostly without consultation with the marketing function.
This can cause difficulties for the marketing manager because the critical factors driving customers to become Detractors and Promoters are often related to customer experiences outside the marketing manager's control. To make matters worse, some successful marketing strategies can create a boost in sales revenue at the expense of NPS® and this can cause conflict between the customer experience manager and marketing manager, as their objectives drive them in opposite directions.
This paper will suggest a methodology for integrating NPS data into marketing strategy to align the marketing function with the broader business strategy and keep conflict at bay with the customer experience manager.
Integrating NPS into Data-Driven Marketing
Single Customer View
There are a multitude of data-driven marketing initiatives that can be enhanced by NPS data but it is essential that a single customer view database be established before this can begin. This is a reliable system for recognising customers across all channels and summarising their information in a single data warehouse to support accurate analysis. This may even need to be merged at the household level depending on the industry e.g. grocery shopping.
Analytical Techniques
The level to which analytical techniques can be enhanced with NPS data will depend on marketing objectives and budget constraints. The examples in the following table shows how Net Promoter Score segments (Promoters, Neutrals and Detractors) and NPS (0-10) can enhance many elements of analysis. If the single customer view is at the household level, first calculate a household NPS by taking a weighted
average across each member of the household (weight based on their relative value in the household).
There are examples for how to integrate NPS into marketing triggers, complex calculations, models and segmentation. Triggers are by their very nature, activity that is a response to a behavioural change. They generally take priority because timeliness is important.
The segment strategy is the underlying strategy that is implemented when there are no triggers for that customer.
Examples of Data-Driven Marketing Enhanced with NPS Data
Data Initiative
Multi-Channel Triggers: Behavioural trigger campaigns e.g. not shopped for groceries across any channel in last 6 weeks and previously a weekly shopper; visited website to look at cheaper mobile plans and called call centre to ask about the cost of paying out mobile contract.
Life Time Value: Calculations incorporating the current value, future predicted value and likelihood to churn.
Share of Wallet: Calculations based on the amount of spend (ideally per category) achieved using external research to identify total spend.
Predictive Models: Models that drive selection and prioritisation for marketing activity e.g. churn propensity, "next product" model, future value model, response model. 
Segmentations: Segmentations that describe customers in order to help fine tune campaigns e.g. lifestyle, value, channel preference, demographics and attitudes. 
Integration with NPS
Track customer NPS over time to identify when the score has declined significantly, much like following RFM segments to determine a customer that is about to churn. Then implement "save" campaigns e.g. for Promoters that drop to Detractors to understand their reasons and try to resolve any issues.
Apply the understanding of the value of word of mouth by up-weighting the value of a Promoter to take the value of their advocacy into account; and conversely apply a down-weighting to the value of a Detractor due to their negative word of mouth.
Track customer NPS over time to identify when the score has declined significantly, much like following RFM segments to determine a customer that is about to churn. Then implement "save" campaigns e.g. for Promoters that drop to Detractors to understand their reasons and try to resolve any issues.
Include NPS as a data variable when building predictive models to fine tune the models further.
Include NPS segments within the suite of segmentations available for profiling. Overlay NPS segments with other segmentations to include them in the broader segment strategies (see example in next section).
Multi-Dimensional Segmentation
In order for marketing activity to be measured against sales profit and NPS, it will be necessary to develop a new approach that can deliver results for two different sets of objectives. One solution would be to develop a multidimensional segmentation that incorporates both value and advocacy.
This is powerful because it includes both behavioural and attitudinal insights together. The first step is to overlay the two segmentations and create a matrix of cells (9 in the case of the example below case) and run profiling on each cell in the matrix.
Figure 1: Example of multi-dimensional segmentation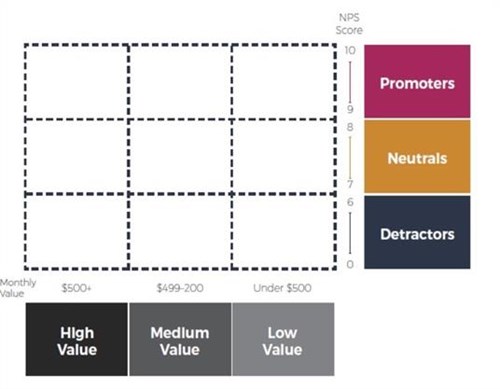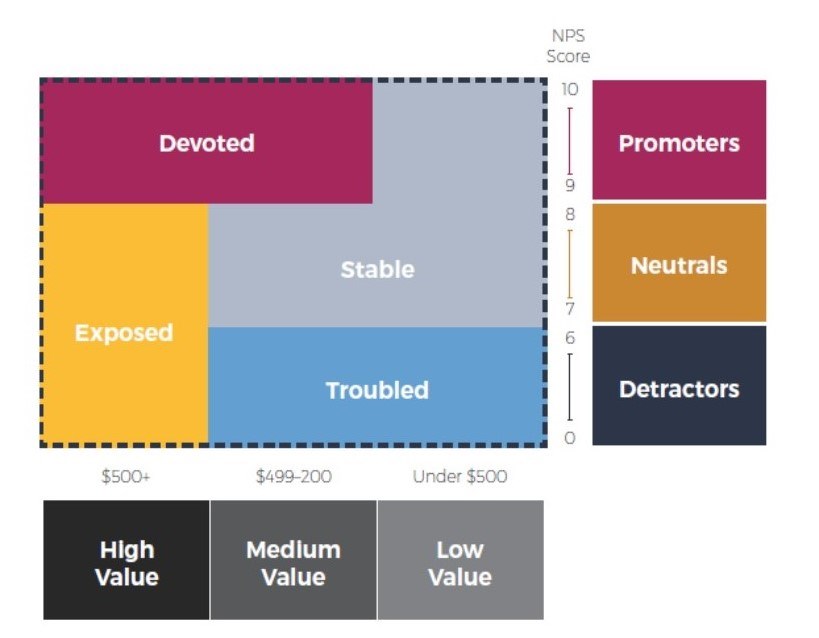 Segment Profiling
The analysis of these cell profiles will assist in the merging of similar groups to create a more manageable number of segments. The profiling variables for each of the cells could include:
Total number of customers
% of customer base
Total annual spend
% of total spend p.a.
% of spend from online, direct, store, etc
Lifetime Value calculation
Standard deviation of spend over last year
Share of wallet
Basket (# of items and value)
Visits per month
Most popular departments/products
Length of relationship
Demographic profile
Lifestyle segment profile
This fictional example of segments has been created based on homogenous profiles and given descriptive names that can become the language of the business. The next step is to devise a high level strategy for each segment that relates to their importance both in terms of their value and their level of advocacy.
Figure 2: Example of multi-dimensional segmentation with descriptive names
Segment Strategy
The following example shows the 4 segments created by combining value and NPS segment, and the associated high level segment strategy.
Devoted
REWARD Strategy
Retain customer value and advocacy
Leverage advocacy via social media/online communities
Media planning based on Devoted profile
Top priority for all marketing activity and research 
Exposed
RESOLVE Strategy
Protect customer value
2nd priority for all marketing activity and research
Increase advocacy by actively resolving individual customer complaints 
Stable
GROW Strategy
Cross sell / upsell focus
3rd priority for marketing and research
Increase advocacy (and value) by resolving most common customer complaints for group
Acknowledge customer complaints and communicate resolution via website 
Troubled
HOLD Strategy
Increase advocacy by resolving most common customer complaints for group
Acknowledge customer complaints and communicate resolution via website
Minimal marketing budget
In order for this approach to work, a high population of both segmentations is required in the customer data warehouse. This can be achieved by continuously surveying customers and providing many options for feedback via as many channels as possible (e.g. email, SMS, tablets in store, pop up surveys online). There is also the option to build a predictive model to fill in the gaps with an estimated NPS segment.
Conclusion
There is an increasing pressure on marketing managers to utilise every piece of customer data available to them in order to continuously improve the performance of their marketing activity. This has driven a change in culture with less creative-driven marketing and more data-driven marketing.
At the same time, the Executive team have increased their focus on tracking customer experience through NPS. This approach can often be in direct conflict with the pre-existing data-driven marketing strategy.
The answer lies in measuring marketing success through both sales revenue and NPS, and this can be achieved with the right strategic framework.
The solution suggested in this paper treats NPS as another valuable source of customer data that can be integrated into the existing data-driven marketing framework (triggers, segmentations etc.) in order to meet the complex needs of the business. There is also the added benefit of removing any conflict between departments' strategies and allowing marketing, customer experience and operations functions to sing from the same hymn sheet.
Want to Know More?
We can provide you with more information or help with integrating NPS with data strategy at your organisation.
Contact us: [email protected]
About the Author
Sue Cash Insights Consultant and Accredited NPS Consultant
Sue joined Resonate in 2009 to bring her analytical experience to the measurement and optimisation of social media projects. More recently she has focused on the driving of insights and performance initiatives for our Closed Loop Feedback (NPS) clients. Sue has 20 years' experience in customer insights from marketing agencies and data consultancies including George Patterson, TBWA GGT/Tequila and Dunnhumby.
Her experience covers many industry sectors including retail (Rebel, Woolworths, Vintage Cellars, Tesco), telco (Telstra), financial services (NatWest Bank) and automotive (Vauxhall Motors).