How to design a 'world's best' loyalty program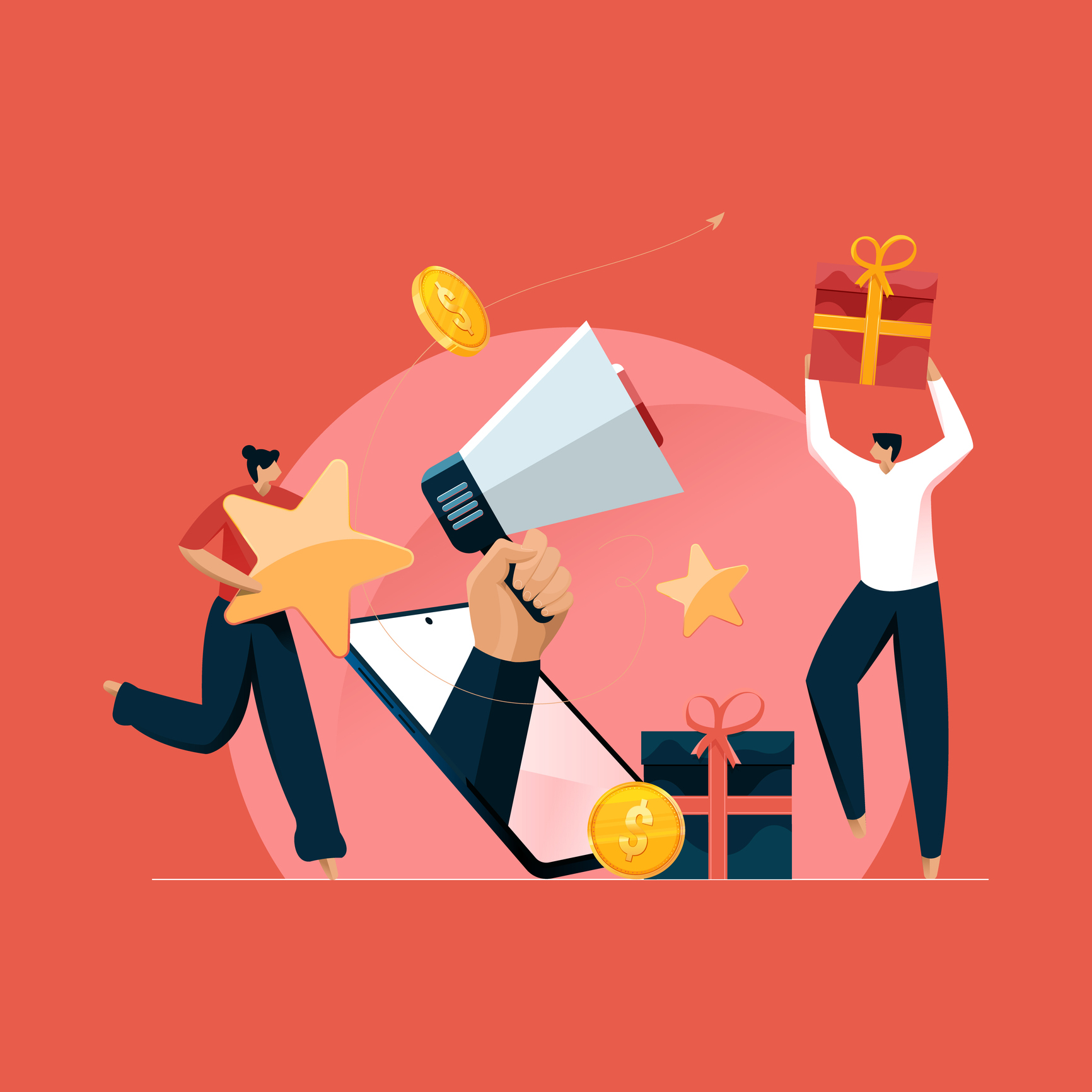 The Ellipsis team love designing customer loyalty programs that engage and grow the value of customers. We are happy to share a few of our tips on how to design the perfect loyalty program (just a few).
To start, it's first important to understand what customers are looking for in a program. We have identified 5 key 'what's in it for me' attributes that customers consider when considering enrolment in a loyalty program:

1. Simplicity: Proposition is easy to understand and transact
Communication of enrolment process, earn and reward options.
Tracking of status/balance in program.
Marketing communications (special offers/promotions) are easy to understand and are engaging.


2. Convenience: Minimum effort to participate
Relevant interaction channels (app, web, email, in-store).
Frictionless and automated engagement to earn/redeem (e.g. card/phone linking).
Seamless integration with shopping process across all channels (in-store, app, web).
Access to customer support and request resolution process.


3. Value: Perceived richness and relevance
The higher the requirements (tenure, spend, non-shopping engagements etc.) to achieve the reward, the higher the perceived value of the reward should be.
Relevance of rewards (including range and partners rewards).


4. Connection: Program engagement reflects customer values and brand share
Alignment of earn mechanisms with shared values (e.g. non-shopping earn for social/environment conscious brands).
Alignment of rewards with brand values and positioning.
Program/brand communications are personal and aligned with customer's values.
Loyalty programs work by leveraging a known set of consumer psychologies. These include;

Operant conditioning: a method of learning that occurs through rewards and punishments for behaviour.
Social identity theory: consumers do not just feel emotional connections to preferred brands, but they adopt them as part of their identity.
Endowed progress effect: when consumers feel they have started on the journey towards a reward, they feel compelled to complete the journey to claim the reward.
Goal gradient effect: extra effort to achieve a goal increases with proximity to the goal.
Size heuristics: mental short cuts that customer use to size value.
Surprise and delight: attract and nurture customers by offering unexpected rewards.


5. Transparency: Full disclosure and no hidden tricks in all critical areas
Major program details are clearly communicated (not in T&Cs).
Clarity and communication on what data is collected, how it is used and protected.


Successful programs are built across 3 key dimensions
Now that we are aware of the main considerations customers make when choosing a program we can begin to start the construct of a desirable loyalty program. We believe programs must be built across 3 dimensions.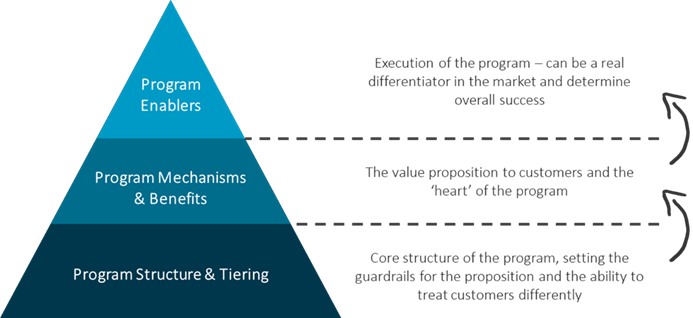 Program structure and tiering: Start by building a foundation view on customer behaviour and financials to inform reward and recognition design and program economics. Frame up strategic program scenarios, these are the options that should be explored to meet the project objectives.
Program mechanism and benefits: Design the program in detail with a strong focus on desirability, viability and feasibility. Map customer requirements to loyalty rewards.
Program enablers: Develop an implementation roadmap and socialise the design and strategy with key stakeholders.
What's the right program structure?
There are many options available when designing the perfect structure for your loyalty program. From the simple no tier program, through to tiered benefits and subscription. The right one will depend on your objectives, customer and business Insights and business case. Below we share a few constructs we regularly design.


1. Rewards Program with no tiers: Simple, egalitarian program
Rewards program that is equal for all, they include soft benefits and rewards. Members earn points to receive rewards.
Positive: These programs are low complexity.
Negative: Often difficult to target your investment.
Example: Flybuys.


2. Spend qualifying tiers: Tiered program that rewards higher spend
Tier-based program with differentiated rewards determined by reaching spend thresholds. Members achieve status by spending, to access more rewards and soft benefits. These programs help create differentiation in the market and across tiers.
Positive: Investments can be more focused.
Negative: They do tend to drive low frequency.
Example: Uber.

3. Spend & visit qualifying tiers: Tiered program that rewards spend and frequency
Tier-based program with differentiated rewards determined by reaching a combination of spend and visit thresholds. Members achieve status by spending and visiting, to access rewards and soft benefits.
Positive: These programs allow differentiation by frequency.
Negative: Potential low ROI on visits.
Example: Frequent Flyer Programs.

4. Rewards program with tiered benefits: For more engaged members
Rewards program with additional soft benefits for members who spend more. Members earn points to receive rewards and engaged members can receive additional soft benefits.
Positive: Allows members to be treated differently.
Negative: Cost of additional benefits.
Example: Marriott Bonvoy.


5. Rewards program with subscription tier: Premium tier offered as a subscription
Rewards program, which is free to join, with a premium tier accessible to join via a paid subscription. Members can subscribe to receive additional rewards and soft benefits.
Positive: They provide an additional subscription revenue.
Negative: Potential fee challenge for members.
Example: Lululemon.
Not all customers are worth rewarding
When designing a customer loyalty program, it's important to remember that higher value (and high potential value) customers are priority 1! Customer loyalty programs work best where value is unevenly distributed in the base, with a cohort of heavy buyers responsible for a disproportionate share of sales. Heavy buyers are most likely to join the program and will receive more of the rewards, effectively aligning investment with customer value.

Finally, aligning loyalty initiatives to your overarching brand strategy is critical for success, to ensure the loyalty program and any loyalty initiatives reflect the purpose of the brand.

Don't forget that any new loyalty proposition must appeal to both the heads and hearts of members. As part of the Ellipsis program design process, we apply proven methodologies and data-driven insights, to grow long-term value and optimise performance. We call this Customer Science®.
We are Ellipsis, the Customer Loyalty Experts. We help businesses thrive through solving complex customer problems. Please get in touch, we'd love to talk.
Our mission is to be the world's best Customer Loyalty Company.