Why customers should love your brand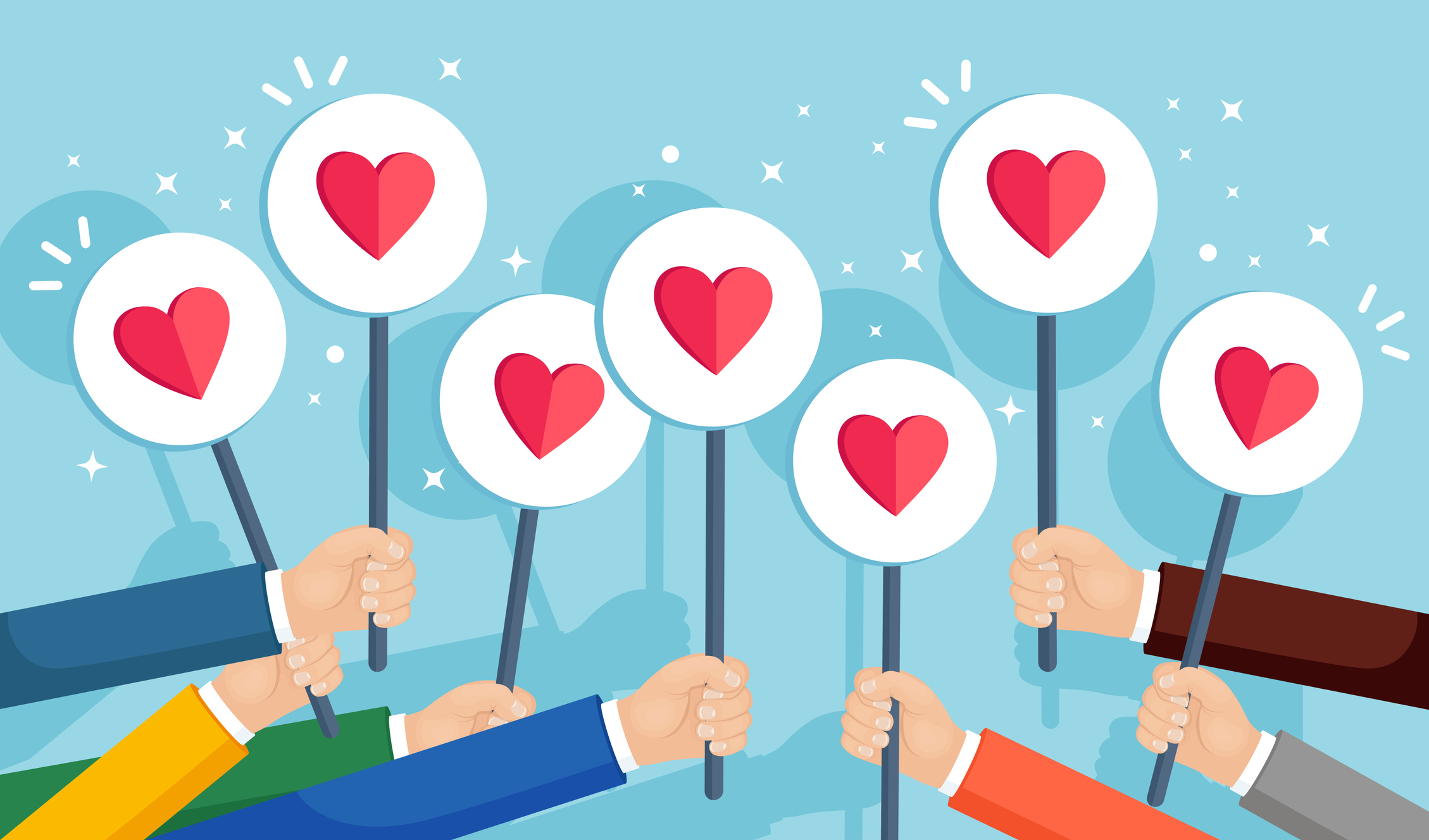 Customer loyalty is an outcome that can be measured, managed and grown. Companies with higher levels of customer loyalty are more valuable as their customers shop more frequently, spend more frequently, stay longer and become strong advocates for the brand.


But some well-known and trusted brands such as Airbnb and Aldi are known and loved, don't have a published loyalty program but do have loyal customers...So what really drives customer loyalty?
There are at least 2 types of customer loyalty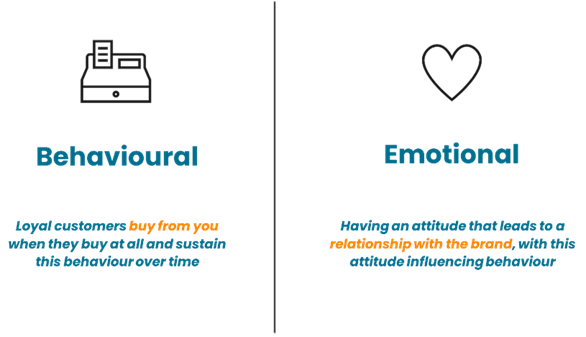 Emotional loyalty exists where customers have strong affinity, attachment and trust in your brand, and they may also exhibit behavioural loyalty by spending more of what they have, more frequently with you and stay longer with your franchise.
To achieve customer loyalty success, companies must also consider that…

1. Loyalty Must Be Aligned with Your Brand's Identity
To create competitive advantage, companies need to decide how best to compete. Investing in loyalty can create a point of differentiation.
We think of the four areas of competitive advantage as a circle. Successful companies either master a particular strategy or combine two adjacent ones. Occasionally, they might move along the circumference to take up another strategy. And in rare exceptions, they may even manage to play on opposite sides simultaneously.

Investing in loyalty can create a point of differentiation – and even help reconfigure your brand's DNA.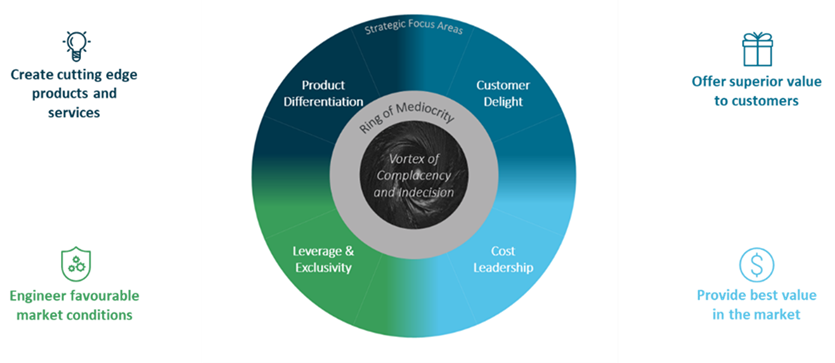 Product Differentiation: companies that adopt this strategy successfully often have no program, are differentiated through superior product / service. But typically introduce rewards as competitors close the gap.
Leverage & Exclusivity: companies with effective monopolies or dominant market share leave customers no choice but to be customers. Organisations which have benefited from a strong network effect, like Meta are good examples.
Cost Leadership: Always having the cheapest product with quality is a good competitive edge, but even here programs can help reinforce or add an emotional component to the customer's relationship to the brand, making it more resilient in the face of competition.
Customer Delight, focussing on delivering a superior and hyper-personal customer experience tends to be most effective in luxury companies where price is less sensitive: programs reinforce or add transactional value to speak to rational brain and balance the hedonic impulses with a rationalisation.
2. Loyalty Is About Customer Influence. The more personal and relevant the better.
This places demands on the way your organisation leverages customer insights to use your proposition as a vehicle for engagement.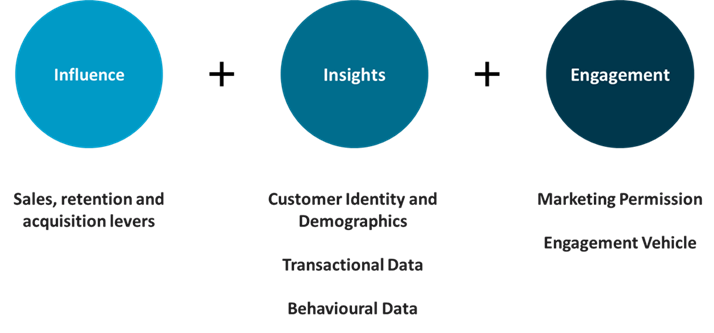 Leveraging customer insights requires adherence with 3 principles.
Determine the customer objective by understanding the key challenges you want to solve with data insights, and define the desired future state for your relationship with customers.


Break your vision into a series of steppingstones – smaller initiatives, one at a time. This allows you flex in your strategy as new capabilities emerge.


Focus your activity along key pathways and stakeholder, this includes CX, operations and systems. People, culture and processes all need to evolve together.
3. Loyalty Programs Make Money, If Done Right
Your proposition doesn't have to be complicated, but you must make it easy and valuable for customers if you plan to unlock ROI.
Research has found that the introduction of a Loyalty Program, on average increased total sales by 7% in the first year and 11% after 3 years1


Gross profit increased by 6% in year 1 and sustained for 3+ years.
Program tiers had a positive effect on sales and gross profit.
Program points had a positive effect on sales and gross profit.
Membership fees positively affected sales in all 3 years.
4. Loyalty Programs must be easy
Delivering the type of customer experience that will lead to customer loyalty in a competitive market now requires that organisations pay attention to their performance on all three levels. Companies get loyalty returns by optimising at each level and you cannot skip levels.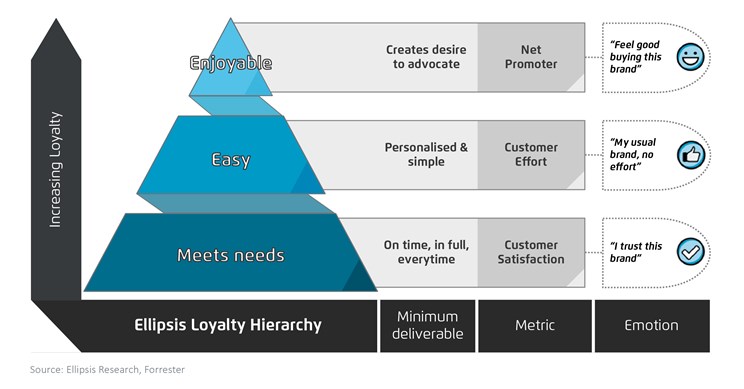 Step 1 - Meet Customer Needs:
Reliably keeping promises builds trust and enables a relationship between the customer and the organisation.
Step 2 - Make it Easy:
The concept of using customer data combined to create a personalised experience ensures relevance and ease.
Step 3 - Make it Enjoyable:
Customers who take quality for granted, and quickly get used to being treated personally, now look for something more to distinguish a supplier worthy of their loyalty. The goal is to design a customer experience that creates emotional connection, with advocacy as the outcome. Discounted movie tickets from your telco….or cheap ice creams at the end of the arduous Ikea maze?
Loyalty program strategy creation has an under-rated side benefit; it forces the design team to put the customer's needs and reactions in the centre of your thinking. An effective way to reduce planning risk.
We are Ellipsis, the Loyalty Experts. We help you measure, manage and grow customer loyalty​. We're here to help, please get in touch…